Parenza Power Rankings (October 2017)
by Victor Parenza (@ParenzaBooks)
Criteria:
It will be based exclusively for the listed month.
And on how much I enjoyed their promos, segments, and/or matches of that particular month.
It could also be purely speculative.
After a terrible September, WWE rebounded a bit in October.  Keep in mind the bar (not that bar, although I still love Cesaro) was not that high to begin with.  Quick sidebar here: I've watched a shit-load of WWE in my life, I've noticed that routinely September has arguably been the worst month of their year.  Off the top of my head, only 2002 didn't have a rotten one.  Why?  The "Smackdown six" were in full force and putting on top-flight matches nearly every week for the rest of 2002. Sorry back to modern day and October 2017.
Sami Zayn
Last month: N/R
Making his long-awaited debut on my power ranking is Mr. Zayn.  Who would have thought it would be at number one?  Zayn wasn't doing much on Raw, then came to Smackdown and did even less.  He would sporadically have interactions with Owens in the backstage, which I did enjoy, but Zayn is one of the best workers on the roster, why not use him?!?!
So he somewhat randomly shows up in the main event of Hell in a Cell to help that old frenemy Kevin Owens.  What?  He's on a PPV holy crap!  Wait, you can't make Zayn a heel!  He's as pure of babyface as they have this side of Bayley.  I'm sure some variation of these thoughts went through your head as they did mine.  But then I contemplated it some more.  I mean the guy was doing nothing.  He was losing to the dead in the water Mike Bennett.  (Sorry dude.)  At the very least if he was Owens' lackey he would be on TV every week in high-profile angles.
So I saw the first Zayn as a heel promo on Smackdown, and I can easily say he slipped into that character quite comfortably.  Sami plays a great toolbox!  Upon even further retrospection, I remembered some promos he was doing with Styles, Nakamura, and maybe some others at some point during the summer.  He was playing this neurotic nerd (which allegedly is closer to his real personality) and he came across to me as really annoying and unlikeable.  It was strange to me that they would present him in this fashion at the time, but maybe it was the catalyst to where we are now.  And that place is the top spot for our Underdog from the Underground.
Kevin Owens
Last month: 1
Much of what I wrote about Zayn obviously applies to Owens.  These guys haven't been a unit since 2009, so it's definitely a fresh angle.  I'm excited.
Roderick Strong
Last month: N/R
I got really excited by the Undisputed Era offering Roderick a spot in their group.  I think the main reason is that I didn't see it coming.  (Which is quite rare in these internet days) But it makes perfect sense.  With the losses piling up, Strong needs to take a good look in the mirror and figure out what he has to do to get himself back on the right track.  Man I love NXT.  Everything makes sense, the matches deliver almost every time.  I hope that someday WWE will be booked this way.
Undisputed Era
Last month: 5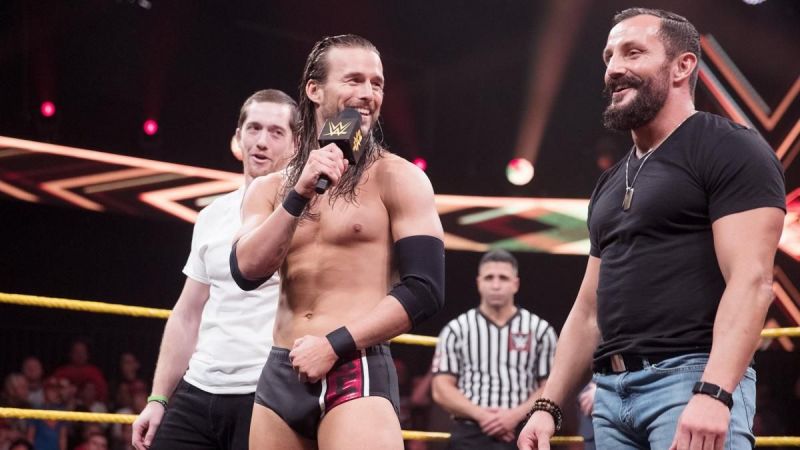 This one piggybacks Roddy obviously, and even if it didn't the looming War Games match is enough to get even the most jaded of fan hyped.  (Now can we just be like Mojo and stay hyped?)
Aleister Black
Last month: 3
Last month the feud with Velveteen Dream had just begun.  I didn't know what to expect, but things have really worked much to my surprise.   Dream's stock has risen considerably, but Black still remains NXT's resident bad ass.  I foresee him cruising all the way to WrestleMania weekend with a NXT title shot hanging in the balance.
AJ Styles
Last month: 6
Styles has been on cruise control lately.  It appears though that he will be feuding with Jinder post-Survivor Series.  Man how wonderful would it be for him to take the belt?  That's a double whammy of awesome.  Jinder is no longer the jobber champion, and AJ is the champion!   I better not get too far ahead of myself.
The Miz
Last month: 9
Miz continuously makes chicken salad out of chicken shit.  They give the guy such ridiculous things to get over, and he may not bat 1.000, but he gives it his all night in and night out.
Drew Gulak
Last month: N/R
I never liked Gulak prior to WWE.  And I didn't like him his first year in WWE.  I thought he was so boring.  Who would have thought it would just take a PowerPoint presentation to get me to enjoy him this much?  I always kind of dug the "no high-flying" crusade, but the PowerPoint has taken it over the top.  Other than Enzo, he is the only 205 guy that gets regular mic time.  Shocking how that little detail made me start to like him.  Now if only they would allow others the same opportunity.
Samoa Joe
Last month: N/R
He's baaaaaaaaaaaaaaaaaaaaaccccccccccccccckkkkkkkkkkkkkkk!!!!!!!!!!!!!!!!!!!!!!!!!!!!!
The Bludgeon Brothers
Last month: N/R
I'm a stickler when it comes to names, and I love this name.  I desperately want Luke Harper back on my TV, so at this point I'll take it in any form or fashion.  Erick Rowan is not my cup of tea, but maybe this is finally the repackage that finally works?
Falling out of the top 10:
Corey Graves
Still love him, just put him on the list to fill it out last month.  This month he wasn't needed.  But rest assured, any time there is a down month, Graves will reappear!
205 Live
Ugh.  There is a huge rant coming from me, in due time.
Asuka
Hearing Michael Cole say, "Asuka loves to have fun" during her debut match nearly made me barf.  She's not having fun.  She's a psycho ass-kicker!
Cesaro
He finally got a PPV main event, and what a clusterfuck it was.  Through no fault of his own of course.  I'll admit the "fellas" have come into their own as a tag team, but this dude is too talented to be tagging with Sheamus.
Matt Hardy
Was last Monday his first appearance on Raw in October?  I may be wrong, but I think it was.